Welcome To Casper Creek Natural Cemetery
Memorialize and honor your loved ones.
Leave a conservation legacy on the land.
---
Casper Creek Natural Cemetery burial grounds provide peaceful, natural areas for the interment of full bodies and cremated remains.
Our Memorial Grove is a dedicated area for legal ash scattering. A memorial wall graces the grove, and a bronze plaque can be engraved with the names of those who find their final resting place amongst the trees.
CCNC's caring representatives will always be available for help and guidance and will be present for all interments.
Photos courtesy of the Jo Daviess Conservation Foundation
What is a natural cemetery?
The Green Burial Council defines natural burial as a way of caring for the dead with minimal environmental impact that aids in the conservation of natural resources, reduction of carbon emissions, protection of worker health, and the restoration and preservation of habitat. Casper Creek Natural Cemetery is certified as a conservation cemetery under the standards of the Green Burial Council.

By centering the burial around a return to the earth, a natural burial uses only non-toxic, biodegradable materials. Special care is taken by our cemetery to use practices that conserve and preserve the natural habitat and flora of the Casper Bluff Land and Water Reserve adjacent to Casper Creek Natural Cemetery.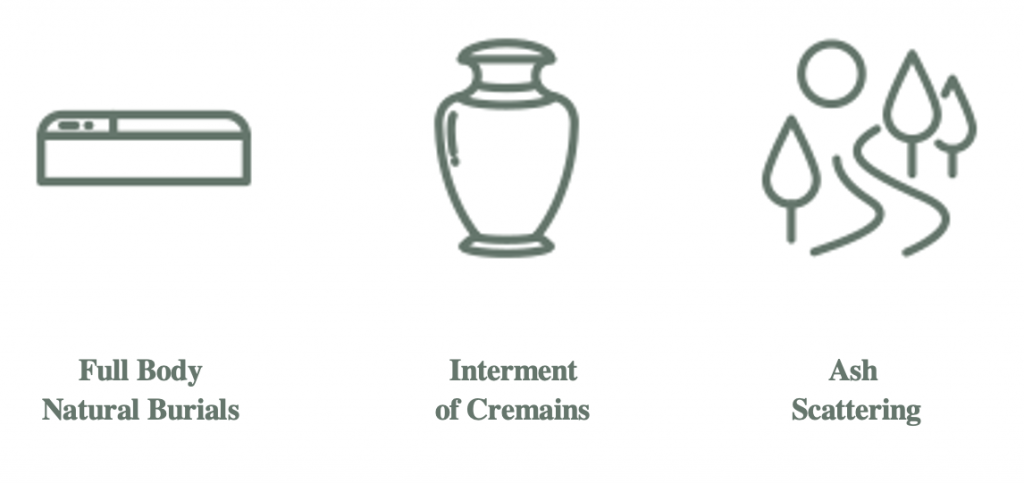 First Steps
Services may be purchased "pre-need" (future end-of-life event) or "at need" (at the time of bereavement). As required by Illinois law, portions of service fees are maintained in separate trust funds to assure service delivery as well as perpetual care and stewardship of individual gravesites.
Schedule a tour or call a CCNC representative at 815-677-3411

Choose the natural services that suit your needs
Your Lasting Gift
As part of the purchase of natural cemetery services, clients make a donation directly to Jo Daviess Conservation Foundation (JDCF). The donation amount supports JDCF land stewardship efforts, education, and outreach programs.
JDCF is a land trust founded in 1993 working to preserve and steward land and water for the lasting well-being of all people and wildlife.
---
Search for your loved ones